Tips for Choosing the Right Golf Rangefinder
Golf rangefinders are quite popular among both professional and amateur players. In the past, its use was quite limited to only professionals who had money to spare. Just like other things in life and golf, rangefinders are now an essential part of any particular golfer. Rangefinders are available at a variety of prices and features. Nowadays, golfers do not have any excuse to purchase one of their own. How do you choose the Best Golf Rangefinder?
Budget
It is advisable to take into account the budget of a golf rangefinder. In fact, it is a vital accessory just like other things such as golf shoes. Remember that you need to buy a rangefinder that offers value for the money. You can get more useful features at an affordable cost. You can start with rangefinders that go for $100 and then move up. Always remember to carry out detailed price comparisons. You should note that since a rangefinder is the most expensive on the market, it does not mean that it is the right for your needs.
Features
When taking into account the cost of buying a golf rangefinder, you should consider after-sale costs. These costs are vital to ensure the rangefinder is in the right condition. In this way, your device will provide easy availability of maps about golf courses in the area. Moreover, the considerations can include different features of each rangefinder. The main types of rangefinders include the GPS and lasers.
You can start with a laser rangefinder that helps calculate the given distance to an object. The good thing with the laser technology is that it provides extreme accuracy to the target. In addition, it can work in any particular golf course. Most laser rangefinders can be used straight out of the box. You do not need computer hookups, subscription plans, and membership fees. The truth is that a laser rangefinder has its disadvantages too. For instance, you have to aim the laser at the target. This is quite difficult for most golf players.
With GPS rangefinders, they have different features depending on the particular model you choose. For example, you can measure the distance from any side of the green – front, back, and middle. You can pinpoint any particular target notwithstanding the physical obstacles that are along the way. Moreover, you can track and keep stats and scores. However, most GPS models are less accurate as compared to their laser counterparts.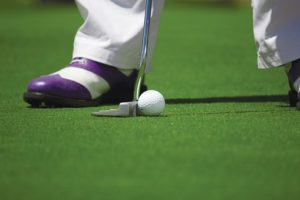 --By  Donald Costello